Pressure Drop Brewing combines high-quality components and West Coast inspiration to create craft beer for Buffalonians. Each of our beers is the result of years of brewing experience, aggressive creativity and continuous brainstorming.
We brew beer for friends to share over dinner, at the bar or on the patio. Whether you're a craft beer aficionado or usually stick with the big names, we're confident there's a beer on our tap list you'll enjoy.
Since the beginning, Pressure Drop Brewing has been crafting these flavorful beers in Buffalo.
Our love for experimentation means we always have a new craft beer for you to try. Here's some of our latest one-offs and returning seasonals.
Dog Pajama Party
Pineapple Tangerine Sour Ale
4.8% ABV  //  8 IBU
Collab with Thin Man Brewery – This party packs a ton of tropical pineapple and hints of citrusy tangerine into a refreshingly tart ale you'll enjoy long after lights out.
Citra Screamer
Citra Hopped Cream Ale
4.9% ABV  //  20 IBU
Citra Screamer comes bursting in with a ton of floral and citrus aroma on the nose, then moves into an amazingly light-bodied ale with a crisp, clean lager-like finish.
Space Monkey Solo
West Coast Style IPA
7.0% ABV  //  40 IBU
That classic West Coast skunk soars in a crisp and clean light-bodied IPA, layered with plenty of dank hop flavor and aroma.
Aunt Gladys
Loganberry Sour
5.5% ABV  //  8 IBU
Loganberry all day! Starts with sweet berry notes upfront that balance well with a nice, puckering sour. A full body with a dry finish.
Sticky Icky
Hazy IPA
6.0% ABV  //  45 IBU
This hazy iteration of Sticky Trees has all the same notes of citrus and grapefruit on the nose and front end, with plenty of the expected dank on the back end. The difference is in the hazy body that is full and soft.
Haggen
Lager
4.5% ABV  //  10 IBU
An extremely light, crisp lager made with New York State malt and locally farmed Cascade hops. Ultra-crushable. A perfect introduction to craft beer.
We've brewed a lot of beer over the years. Take a scroll down memory lane.
Rebel Waltz
DDH West Coast IPA
7.5% ABV  //  50 IBU
Generously hopped with Mosaic and Citra, then double dry-hopped for plenty of fresh citrus 13oz flavor and aroma, with a crisp, dry finish and that classic West Coast dank.
Greetings from
the North Pole
Chocolate Milk Stout
7.0% ABV
This insanely delicious Milk Stout is brewed with a TON of chocolate roasted malts and lactose for rich flavor and a sweet, creamy mouthfeel. This beer slays!
Not a Football Beer
Lager
5.2% ABV  //  10 IBU
This ultra-crushable session beer is great for social activities like not tailgating, not gathering with friends to watch the game at home, and not sitting in your favorite barstool to root for your team; this is definitely Not a Football Beer.
Sudbury Blueberry
Fruited Sour Ale
4.8% ABV  //  8 IBU
A slightly tart beginning that moves into super sweet blueberry with another touch of sour to finish.
Dank Sinatra
NEIPA
6.0% ABV  //  35 IBU
A medley of hops adds a West Coast dank that gets this IPA under your skin, while heaps of oats, and English yeast make for a classic yet unforgettable flavor. Dank Sinatra is a super fresh and smooth hazy IPA with a hint of bitterness—that's life, baby.
October Harvest
Seasonal Ale
6.0% ABV  //  17 IBU
A light caramel body with subtle, floral hop notes and a crisp, light finish. Enjoy October Harvest during festivals, at your favorite neighborhood pub, or at home while you procrastinate raking all those leaves. Prost!
Frosty Pops
DDH IPA
7% ABV // 30 IBU
Super strong notes of citrus, mandarin, and tangerine on the nose, which blends nicely into a super soft, full body. Very minimal bittering and an extremely velvety finish.
Lyam's Lager
Lager
4.5% ABV // 10 IBU
An amazingly light, crisp, clean, and crushable lager. Beer for a cause: A portion of each purchase is donated to the Oishei Children's Hospital!
The Chupacabra
Lager with Lime
4.5% ABV // 12 IBU
Light, crisp lager with a hint of lime. A super crusher for spring and early summer.
Hydroelectric Lettuce
Hazy IPA
6.2% ABV // 25 IBU
Super soft and full body. With notes of sharp citrus, grapefruit, and tangerine. And then a little touch of earthy, forest floor with the usual skunk and dank.
On Brew Days We Wear Pink
Hazy IPA
6% ABV // 29 IBU
Pink Boots Society Collaboration Brew. This beer has a pillowy soft body, with notes of mango, papaya, and tangerine. It finishes with undertones of strong berry and pine. So fetch!
DDH Super Sticky
West Coast Double IPA
8% ABV // 50 IBU
A true West Coast DIPA! Double dry-hopped with all Mosaic for a deathly smooth double IPA.
Christmas Future
Spiced Porter
5.5% ABV  //  17 IBU
Strong notes of cinnamon, nutmeg, and allspice backed up with a full, milk chocolate, body. And a velvety finish.
Turkey Bags
Hazy IPA
7.0% ABV  //  30 IBU
A super soft, hazy body with strong mandarin, tangerine, and pineapple notes.
Space Coyote
American IPA
7.5% ABV  //  45 IBU
Notes of Dank and resinous pine, with underlying notes of pineapple and citrus.
Kaya
Hazy IPA
5.2% ABV  //  25 IBU
Strong notes of mango, papaya, and tangerine. An extremely soft and light body. A nice, sessionable hazy.
Cross Faded
Hazy DIPA
8.0% ABV  //  30 IBU
This hazy double IPA has a crazy-soft body with all the skunky, dank, citrus, tropical notes from the old school, West coast hops – while not forgetting the clean finish.
Happy Turtle
IPA
7.5% ABV  //  45 IBU
Brewed with all the Citra hops, this unfiltered IPA is a true East/West coast hybrid. Notes of skunky, dank citrus with a soft body that is light and crushable.
Philosophy of Logic
Hazy IPA
7.5% ABV  //  33 IBU
Strong notes of passionfruit, strawberry, and grapefruit. A body that is hazy and soft with minimal bitterness.
Seventy Seven
Stout
7.0% ABV  //  15 IBU
Starts with strong caramel and chocolate notes with a sweetness that is well balanced. A nice roasted body, which leads to a velvety smooth finish.
Cowboys and Ninjas
Hazy IPA
7.0% ABV  //  28 IBU
An incredibly soft, super citrus-forward IPA that highlights Citra hops. Another absolute banger!
Deep Search
Hazy IPA
7.5% ABV  //  30 IBU
Strawberry, peach, passionfruit, and tangerine all upfront. With, you know, the typical earthy, skunky, dank backbone.
The Bubble Experience
Sour Ale with fruit
4.5% ABV  //  9 IBU
Notes of blackberry and sweet peach on the nose, which transitions to a tart, sour body. Light, crisp, clean, and extremely easy drinking.
Death Lettuce
Hazy IPA
7.5% ABV  //  56 IBU
Tons of tropical fruit notes on the nose and up front, and then it finishes with some dank and skunk. A soft, hazy body makes this easy on the palate.
Second Summer
Sour Ale with Raspberries
4.5% ABV  //  15 IBU
Starts with loads of raspberry upfront, with a nice sour character and body. Finishes nice and light and crisp.
Sour Diesel
Dry Hopped Guava Sour
4.5% ABV  //  15 IBU
Starts with tart guava on the nose and the palate, which transitions to a mild, underlying, skunky hop note. A light, crisp, dry crusher!
Soda Jerk
Cherry Limeade Sour Ale
4.5% ABV  //  10 IBU
Notes of bright lime that are backed up by sweet cherry. A light body and just the right amount of pucker!
Volcano Bunny
Dry Hopped Pineapple Sour
4.3% ABV  //  20 IBU
Notes of sweet pineapple on the nose that transitions to a tart sour with a hop-driven finish. Light, crisp, clean and extremely easy drinking.
Faded Clauz
Imperial Chocolate Milk Stout
9.0% ABV  //  28 IBU
Starts with notes of deep, rich milk chocolate. A hint of roast in the body with a smooth, creamy finish. The perfect pairing for your favorite holiday cookie!
Alien Technology
Imperial IPA
8.8% ABV  //  88 IBU
Citra and Simcoe hopped Imperial leads to strong citrus and pineapple on the nose. Assertive bittering that coats the palate.
Beyond Neptune
Fruited Sour
4.5% ABV  //  8 IBU
Sweet plum and apricot on the nose followed by a solid, sour bite. Finishes incredibly crisp. Another super crusher!
Solenya
Cucumber Gose
4.0% ABV  //  9 IBU
Brewed in collaboration with Barrel + Brine. A bright cucumber nose with a solid, sour profile. An assertive salt presence leads to a crisp finish.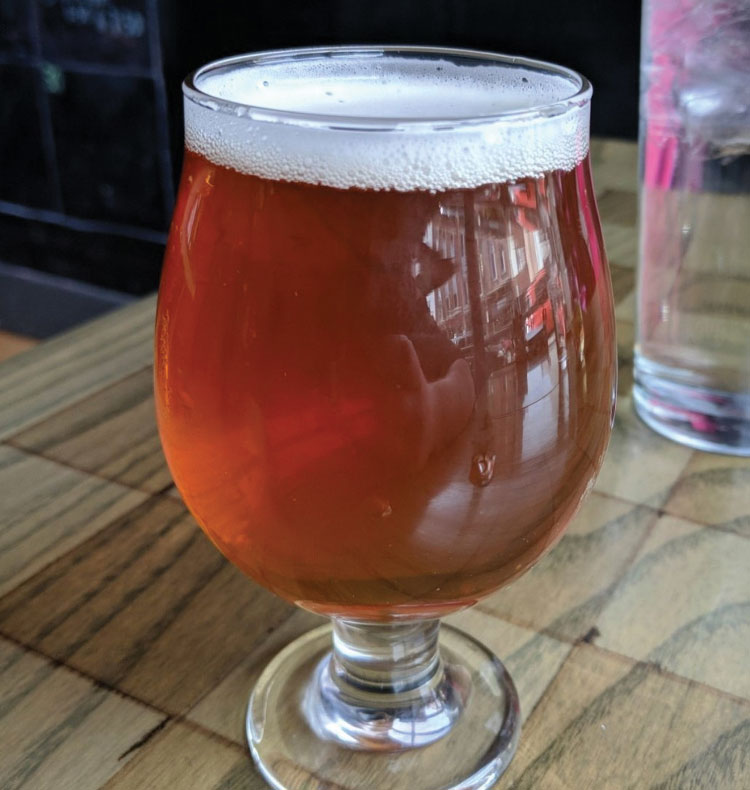 Pitter Patter
Red IPA
6.0% ABV  //  55 IBU
A classic West Coast IPA brewed with Cascade and Centennial hops. Strong pine and citrus flavors with balanced bittering. Light and crisp.
Mildly Hazardous
Brown Ale
3.7% ABV  //  9 IBU
Light chocolate notes and the tiniest hint of roast. Just enough flavor that you can crush it all day without getting bored.
Citra Screamer
CA Golden Ale
4.9% ABV // 22 IBU
Plenty of citrus aroma on the nose that moves into an amazingly, light bodied crusher. A mild hop presence with a crisp lager-like finish.
Please fill out the form and we will get back to you as soon as we can. In the meantime, join us for a cold beer at our Elmwood Ave. pub!